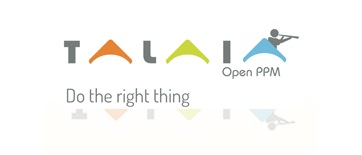 The business world is in constant changes, companies needs a good management tool that doing the organization about this and priories the good initiatives and ideas.
Talaia's Project Portfolio Management is the solution that's need an organization for put planes to its dreams and convert to goals. Have to a negotiation function in a strategic level for the organization and hand to hand of CEO, that's allow prioritise and order the demand, manage the portfolio, execute projects, support and prove. As too work collaborating and sharing objectives and initiatives. Prepares the organization to answer successfully for changes and unexpected. For this reason, needs count with the integration of definite five blocks: ERP system, incorporates manage of a system groups that allow administration integrated operations like logistics or production. Business Intelligence, take advantage of software and services to transform information in intelligence that's inform for take decisions. Collaboration with Slack o Yammer, allows fast communication with all members. Documental management, is actually the key because companies manage many numbers of information and permits save it on secure mode. And the management tasks, the advanced list allows add different actions that realize. All of this maintaining a simple interface design, without increasing the levels of complexity.
Many companies think that Project Portfolio Managements stop some process but Talaia breaks down all ideas about it and helps to plan, execute and control, increasing the success of projects. This happens because our software identifies and correct the possible mistakes.
It for this reason that make easier the work of Project Managers and all of users, inside this difficult world, Talaia allows charge many projects at one and unique tool, increasing work and task facilities, because are more organized and accessible with agenda and point date.
Talaia is a portfolio management tool to work most quickly, easily and efficient. Teams can compare, comment and interacted in real time, potency the progress of project with a few clicks. Allows monitor and adjust work and keeps the eye to different projects in the same time, as too works with Gantt charts, facilitates an easy vision of factors more important of projects.
With Talaia you have:
A unique place to work, where it plans, priories and divide up tasks, documents and keeps the process of work, stopped the big mistakes.
An easy use tool with an intuitive interface.
Adapted solutions for every project and tasks with its control charts, creating in a real time reports about work done.
Clients around the world, nationals and internationals, guarantees the use of Talaia OpenPPM, giving satisfactoriness results on projects, teams and business.